Centering Community
Weekend Retreat
October 25-27th
Join us and immerse yourself in informative and hands-on workshops where you experience the homesteading and village life of Nelsonville, Wisconsin. Listen to the journeys of locals who have relocated to rural Wisconsin from urban environments and how that's shaped their way of life. Experience a low waste lifestyle and learn how folks have crafted community in this "unintentional, intentional community".
Friday
3pm
Check-In Starts
Guests can canoe, lounge, explore Nelsonville for the 3 hours of free time.
6pm
Welcome Bonfire

6:30pm
The Lost Grape:
Wine Tasting
7:30pm
Community Dinner
Saturday
8am
Locally Sourced Breakfast
9am
Workshop #1
12pm
Lunch
1:30pm
Workshop #2
3:30
Siesta and/or guided walk of Nelsonville
6:30pm
Community Dinner
followed by an evening bonfire
Sunday
8am
Light Breakfast
9am
Morning Yoga
10am
Coffee Cupping at Ruby Roasters
12pm
Farewells
$100 One Guest
$120 Two Guests
$80 One guest
$110 Two Guests
$80 One Guest
$110 Two Guests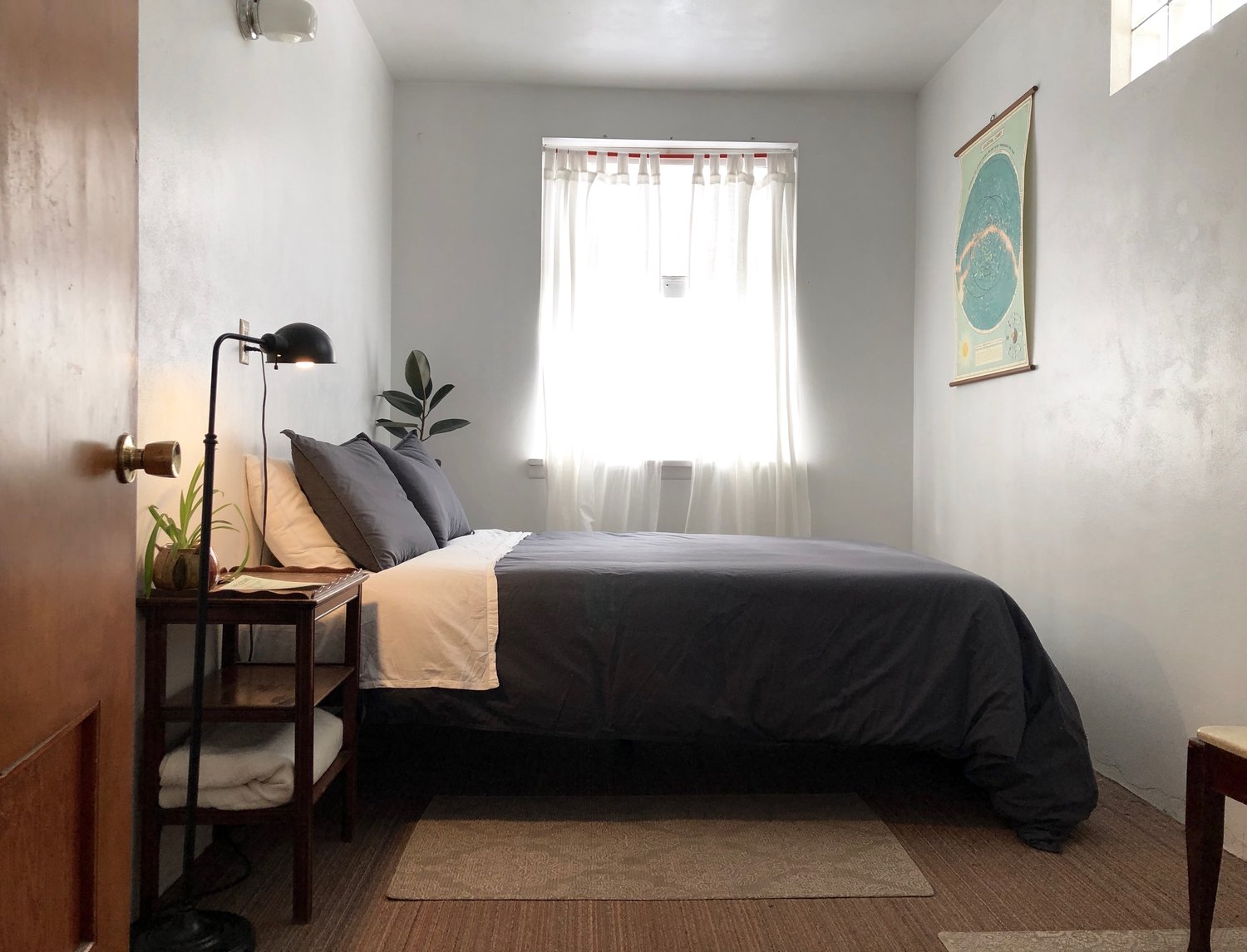 Each room has a queen bed dressed in organic cotton sheets. There are fresh towels and water. The rooms are private and secured with key code locks. Room 2 is the only room with a toilet and sink in the room.
Guests share two restrooms, large kitchen, communal living room and studio. While we have wifi, it does not reach rooms well. But hey, we are a "community lodging" site and that's what make us awesome.
Guests have access to trails leading to the river and three fire pits around the property. On Friday we will have a a trailer of canoes ready for those wanting to float before our 6pm bonfire.
Please choose the room you would prefer for October 25th and 26th. We will be accepting Cash/Check/Card payments in person on Friday at Check-in.
Hello Retreater,
We are so pleased to be hosting Centering Community at Tomorrow River Homestead. This retreat is the culmination of two years of following our hearts to a place that centers us, that is centered around community and that which engages community growth.
With you joining us, we hope to exchange ideas around the topic that define us: how we choose to live. We knew before moving here we wanted access to things that were authentic, slow, thoughtful and kind. Seems lofty, but when you apply these notions to daily life it really starts to make you think… Is the food I am eating slow? Are the folks I engage with authentic? Am I thoughtful in my consumerism? Are we doing our best to be kind to the planet and ourselves?
Lucky for us we accidentally moved to a village we call our "Unintentional, Intentional Community". Over the course of the weekend you will get to meet and work with folks who ask themselves these same questions. They also happen to be our neighbors!!! Honestly, it was a surprise to us too that we could happen across such a thoughtful community dedicated to the real work.
We look forward to hosting you and sharing how we are cultivating a low-waste, diy, feminist driven space in Central Wisconsin!
Rates include workshops with their materials, food, coffee, access to canoes and light evening beverage.
Room rates are not included and vary in price. Price noted reflects the two nights of the retreat.
Central Wisconsin locals are encouraged to join us for all Saturday offerings!
$150/person — Room Share Rate
($25 Discount for Each)
$95/person — Local Saturday Rate